All In One Restaurant Management System
It's been 6 years now that AsiaTech Inc is catering your hospitality needs but now is the time to welcome all-in-one restaurant management software in this era of smart restaurants. With our very first initiative in this sector, we promise you an automated artificial intelligence restaurant application that will enhance your service to merit.
Request For Demo
Get response from us within 60 Minutes
Experience extraordinary offerings at AsiaTech Pro-On
With revolutionary open-idea portals and published tracking systems for all of our esteemed clients, we are giving access to a very personalized log-in method where you can preview and upgrade your offers. We help you in garnering your online restaurant operation with the help of our successful attempt in providing QR system log-in, and POS Billing Software.
Online food ordering system through your own website portal.
Menu management.
Dine-In.
Take Away.
QR Based Food Ordering System.
Promos and offers.
Free restaurant software demo.
Dine-In
AsiaTech Pro-On makes the buzz of dine-in real post pandemic with its contact-less dining menu. Now your guests can order and enjoy their dine without having any safety issues.
Cafe
Our mobile supported POS system helps you to take orders and settle bills over an application. Send e-bills or e-mails on customer's phone to avoid any contact and establish safety measures.
Cloud-Kitchen
Don't have any material space for dining-in? No worries, our easy to access POS software enables all the different beneficial steps, like order acceptance, preparation, packaging and delivering the processed food,that eventually reduces the lag.
Pubs/bars
With our contact less dining services, bill settlements, addition of discounts and online orders is made easy. You can now manage customer's queue by alerting them their position and table booking, effectively.
Services that we are willing to offer
Objectively deliver professional value with diverse web-readiness. Collaboratively transition wireless customer service without goal-oriented catalysts for change. Collaboratively.
With the help of our POS Billing Software, billing method is going be easy than it was once used to be.
Our 24*7 present dedicated support management system is ready to respond with prompt and suitable solutions.
Our phone based assistance over digital based restaurant table menu software is going to garnish your restaurant with 100% satisfaction.
With our powerful business insight feature, you will be getting a full track record of customer details and sales.
With our best restaurant billing software the concerned person will be getting an invoice right away over their e-mail or/and through text message.
Billing system is made efficient with our POS Billing Software.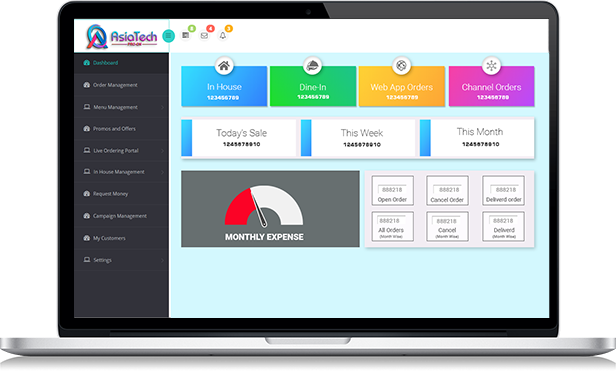 Pro-On Features
Our best restaurant management software will help you experience Happy meal hour by sitting at your home. AsiaTech Pro-On has enabled us to provide you with robust services that are user-friendly and convenient to use. You will be displayed a digital menu which will save your time on praying over a menu card.
No Printed Menu
Your guests will receive pop-up of a contact-less menu right after scanning the QR-Code.
Fully Customize Menu
Now you can bring changes in your digital menu whenever you want.
Time-Saving and Easy to order
Your guests won't be standing in the queue waiting to order because order is made easy with Qr-scanner.
Can Be Used In Rooms and table Ordering
Compatible in rooms and on restaurant tables as well to make your guest's ordering experience seamless.
Create Offer and Events
Update prior notification and updation to your customers about any upcoming or on-going event or offer.
User Friendly
Easy to use personalize, no matter how much technical knowledge you possess.
Apps Screenshots
AsiaTech Pro-On took a revolutionary step to provide you with a billing software with Tax ready invoices, reports and inventory. Pro-on provides a cloud based security, so that, you can access to your billing database from any corner of the world. Make your billing process faster and smoother with AsiaTech Pro-On billing software.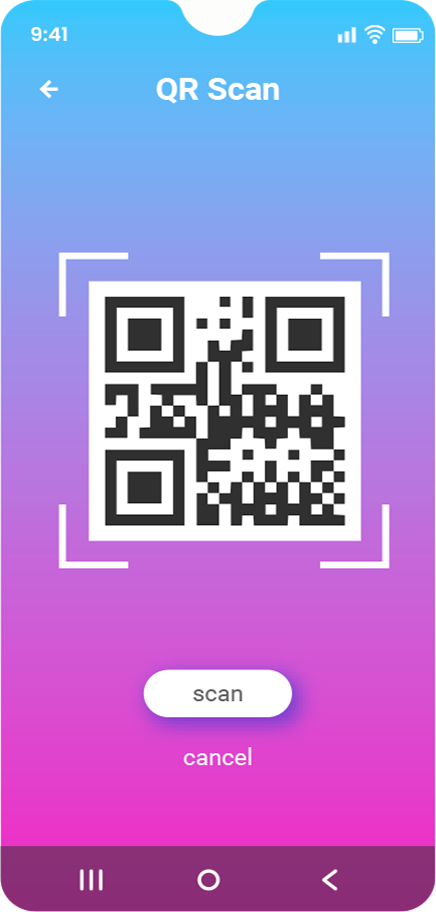 AsiaTech Pro-On introduces QR based food ordering system
In this desolating situation of pandemic, everyone is providing a higher level of effort to stay safe and keep their family members safe as well. And by keeping in mind those concerns, we feel more than obliged to share our revolutionary QR based food ordering system. The division of QR based ordering system is two fold- Basic and Advanced
Discover Happy Hours with AsiaTech Pro-On
Our best restaurant management software will help you experience Happy meal hour by sitting at your home. AsiaTech Pro-On has enabled us to provide you with robust services that are user-friendly and convenient to use. You will be displayed a digital menu which will save your time on praying over a menu card.
Our software is not only feasible to use but our very best Business Analysts are providing free restaurant management software demo and we promise an ever present support system to cater your needs.
Increase your productivity with AsiaTech Pro-On
Calling out for a waiter and getting no response or sitting there unattended is quite an awkward situation to face, isn't it? But what if we tell you that you don't have to face those awkwardness anymore and that you can order easily without waiting for the waiter's inclination of attention? Yes, you heard it right!!! It is now possible with our very first automated digital restaurant table menu software.
Restaurant E-menu Application
In this horrible situation everyone is going to an extent to stay safe and we understand your safety concerns by launching a restaurant e-menu application where you can experience contact-less menu and contact-less dining system. Now, you can directly order your favourite food item with the help of your smartphone, all you have got to do is bring your appetite to the restaurant, scan the table menu, select the food item you have craving for and then enjoy!
Payments made simple with POS Billing Software
We are promoting a phone based assistance through which you will search less and enjoy your meal one. POS offers contact-less payment with distinctive payment methods. You can now instantly pay for your order from your smartphone in a feasible manner.
AsiaTech Pro-On helps you to get in contact with your customers without getting into any literal 'contact' !
Looking for a excellent Business idea?
Give us a call or drop by anytime, we endeavour to answer all enquiries within 24 hours on business days.
Get Directions
---
Company Location

AsiaTech Hospitality Solution Pvt Ltd Lower Ground Floor A-6, Sector-16

Email Address

Phone Number
Our Other Services
AsiaTech Inc is committed to providing end to end technology solutions to the complete Travel Fraternity. Dynamic Websites, Responsive Booking Engines, Channel Manager comprise a range of our services driving increased revenues for our clients.